Members of European User Offices met for the first time
This first discussion forum of European User Offices was held on November 3-4 at the ALBA Synchrotron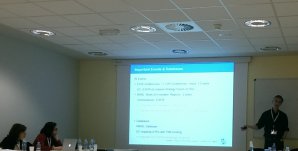 Thomas Gutberlet at the European User Office Meeting
Each facility, be it a synchrotron, FEL, neutron or muon source, has a User Office which manages the submission, review, and reports of research proposals by external scientists. The procedure can be rather complex as it includes coordination with a review committee, the instruments' responsibles, a number of European projects, and the informatics staff who programme the software used for the submission.
Thanks to a number of EU-funded projects such as NMI3, Calipso, Biostruct-X, PaNData, and EuroFEL, the facilities can more easily collaborate and explore possible harmonisation of procedures. However, a real exchange of experiences between members of European User Offices was missing. This meeting served as a first discussion forum where each facility presented their procedures, achievements as well as concerns and future plans.
Members of European User Offices met at the ALBA Synchrotron, near Barcelona, on November 3-4 to present and discuss the following topics:
Evaluation of proposals
User access procedures
European Projects
European access funding
Technology behind user office portals
Access: cross facility, remote, fast routes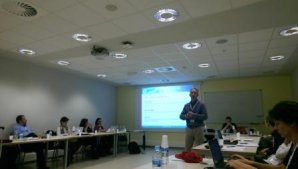 Mark Johnson presenting NMI3 at the European User Office Meeting
NMI3 was also present. Thomas Gutberlet, the coordinator of the NMI3 activity working on an Integrated User Access, was one of the organisers of the meeting. Inês Crespo, the project Information Manager, has presented the websites nmi3.eu and neutronsources.org, to show-case examples of international collaboration. Mark Johnson, the NMI3 Coordinator, has explained to the group the several fronts in which NMI3 supports research and how collaboration can be successful. The fourth member was Stefan Janssen, who is the coordinator of the NMI3 Access Programme, presented the work done at the PSI User Office.
Agenda