Change of dates for the Fan du LLB school
The school will take place on March 2 - 5, 2015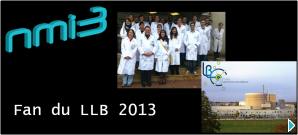 School series - The 2013 Fan du LLB school
Watch our Fan du LLB video where participants tell about their experience!
Following a technical incident, the Orphée reactor will not be able to provide neutrons in December 2014, when the school was initially planned.
In order for the students to have the opportunity to conduct real experiments in the LLB instruments, the organisers have decided to change the dates of Fan du LLB 2014. The school will take place on March 2 – 5, 2015.
Fan du LLB consists in trainings devoted to young researchers interested in the use of neutron scattering for the study of condensed matter.
Further information at: