NMI3 Industry Events
Research and Industry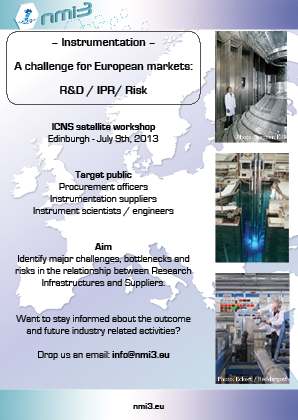 NMI3 is organising a number of events to explore interaction between neutron and muon facilities with industry. This consists of three events:
The Industry as a supplier workshop to our facilities, in July 2013, brought together suppliers of key equipment for neutron and muon instruments with people from the facilities who are responsible for purchasing and procurement and the clients who are the facility engineers and scientists.
The Second

IAB

meeting on 19-21 November 2014 in Athens, concentrated on the necessary boundary conditions for a successful industrial user relationship.
The purpose of these meetings is to define how this interaction between facilities and industry can be improved and developed in the forthcoming Horizon 2020 programme.
Report: Outcome from the joint CALIPSO-NMI3 Industrial Advisory Board meeting