EC representative visits NMI3 coordinator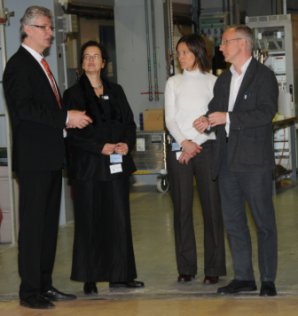 Ana Arana Antelo with NMI3 coordinators at ILL. Picture: Serge Claisse, ILL.
Ana Arana Antelo, Head of Unit of Research Infrastructures of the European Commission, has visited the NMI3 coordinator at the Institut Laue-Langevin (ILL) on the 21st of November.
Her visit at ILL was part of a larger visit of different Research Infrastructures in Grenoble.
Prof. Dr. Helmut Schober, Science Director of ILL, received her, not only on behalf of ILL but also as coordinator of NMI3. After a short presentation on the history of ILL as European research facility, she had the opportunity to visit the reactor and also the instrumentation hall. She was particularly impressed by the internationality of the Institute and the ongoing collaborations with other institutions, as well as by the instrumentation and thematic partnerships.
Back to previous page