Fostering collaboration between Industry and Research Infrastructures
Comments from the second IAB meeting & Networking of Industrial Liaison Offices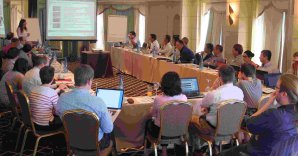 The second IAB meeting. © Menno Blaauw
Even though a range of industry sectors are interested in all methods that can help improve the materials and processes they use in their production lines, they have little knowledge on photon, neutron, and muon techniques. As part of its Industry events, NMI3 has joined forces with the synchrotron consortium CALIPSO and created a common Industrial Advisory Board (IAB) in 2013 to advice on how to enhance industrial use of research infrastructures (RIs).
Encouraged by the successful first IAB meeting in December 2013, which was well received by both industry representatives and business development officers, we held a second IAB meeting counting with around 40 representatives of major European Innovation and Technology Campuses on November 19-21, 2014 in Athens. This time the aim was to define concrete ways for how industry and RI could work together on issues such as legal frameworks and application of standards when industrial users conduct experiments in the facilities.
The number of companies who facilitate characterisation experiments by industry at large scale RIs has been growing, which shows there is opportunity for business and thus models need to be developed to improve collaboration. The IAB is willing to support both communities to establish the requirements for use of large scale RIs by industrial users. For instance, industry members are often not familiar with the language and scientific terms used at RIs, which the IAB offered to help with.
Policy-makers and RIs share experiences

On the top of Athens. © Alfons Molenbroek
Prof. Costas Fotakis (at the time of the event invited as chair of the Horizon 2020 Advisory Group on European Research Infrastructures including e-infrastructures; now Greek Research Minister) reported on the major findings of his group, who identified cross-cutting challenges for RIs, indicators of success, and barriers to adopt those measures. He stressed that RIs have a strong potential to become the European knowledge-base for innovation and, in particular, ensure the participation of industry and SMEs.
Dr. Jean-Pierre Caminade (French Ministry of Higher Education and Research) presented a methodology developed by the French Ministry to evaluate the cost of the service provided at RIs.
Dr. Enrico Chesta (CERN Technology Transfer Office) presented three tech-transfer models and the new Business Ideas Accelerator building at CERN, which resulted in the creation of incubators in the United Kingdom, The Netherlands and Norway.
Furthermore we learned about the range of strategies to promote the techniques available at RIs as e.g. from Chris Frost from ISIS in the UK, where efforts are made to provide the best possible conditions to industrial users, who subsequently report to policy-makers.
The importance of European funding
Funding from the European Union would enable smoother collaboration. It could provide the necessary resources, train both staff and users, support open access to RIs to users from all Member States where the necessary financial and research resources are often unavailable, and enable networking among business development officers based in different countries.
After such a successful meeting, everyone agreed to keep this network alive beyond the project duration of NMI3 and CALIPSO.
Useful Links