Job: Deuteration Chemist to ESS
This position is funded by the SINE2020 Deuteration RA. The deadline for applications is December 6.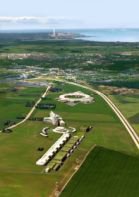 The Science Directorate at the European Spallation Source (ESS) in Lund, Sweden, invites applications for a Deuteration chemist for the Deuteration and Macromolecular Crystallisation Platform (DEMAX) within the Scientific Activities Division.
Description of directorate/division/group
The DEMAX platform is responsible for the development and optimization of the production, characterization of deuterated compounds for experiments to be carried out on the ESS neutron scattering instrumentation. The platform consists of biological and chemical deuteration facilities, as well as a macromolecular crystallization.
A post-doctoral chemist is sought for the development of new deuterated compounds, particularly the synthesis of chiral and complex molecules, as well as the purification and analysis of perdeuterated compounds obtained from cell cultures.
Description of main responsibilities
The deuteration chemist will work on the synthesis, purification and characterization of deuterated organic molecules and their pre-cursors using a range of chemical, biochemical and analytical methods. A solid background in organic synthesis with experience of liquid and gas chromatography as well as NMR characterisation is required. Experience of enzymatic and chiral synthesis and/or purification of small molecules from cell cultures would be desirable as well as experience of mass spectroscopy and isotopic labeling.
Duties and responsibilities:
setting up and operation of a laboratory for the production and purification of deuterated chemicals using novel and traditional synthesis routes
characterisation of deuterated products using

NMR

and mass spectroscopy
chromatographic purification and analysis (LC,

HPLC

, GC)
day-to day responsibility for purchasing, equipment maintenance, calibration and other quality and safety functions for chemical deuteration
contribute to coordinating a user platform for chemical deuteration
contribute to journal and conference publications as appropriate
This is a fixed-term position funded as part of the EU H2020 project SINE2020 , within which the ESS is establishing a laboratory in Medicon Village, Lund for the chemical synthesis and characterization of deuterated organic compounds in collaboration with other European neutron facilities.
Qualifications
Technical Qualifications:
The candidate will have a PhD in synthetic organic chemistry and experience of using a range of synthetic and analytical methods, for example in the area of natural products.
Post-doctoral experience and experience of deuterium labeling/neutron scattering/NMR methods will be considered an advantage.
Personal attributes:
The candidate should have the
ability to work both independently and as part of a team
excellent time-management and organizational skills
proactive attitude and motivation to develop new skills and ideas
ability to work collaboratively with people from different scientific disciplines
experience of working in an international environment is an advantage
excellent written and oral communication skills in English, knowledge of other European languages would be an advantage
What
ESS

can offer

ESS offers people with talent and passion a unique opportunity to be involved in the development and building of a world leading facility for materials research. Besides attractive employment and relocation conditions, the flexibility to balance work life with private life and good opportunities to further enhance your skills; you will also enjoy being part of an organizational culture that promotes and supports internal career growth. We pride ourselves in having successful collaboration across different functions, and as the facility continues to grow we will keep nurturing the international and vibrant environment welcoming people from all across the world.
Duration & Location
The position is a two-year temporary position with the possibility to extend the contract for an additional 1-2 years within the duration of the European H2020 grant, SINE2020. The relocation support will, when applicable, differ from the standard relocation package provided by ESS. Your work place will be situated in Lund, Sweden.
Application & Contact
Please provide your curriculum vitae and covering letter in English by clicking on "apply" and following the instructions. Please note we only accept applications via the ESS website, https://europeanspallationsource.se/vacancies. The deadline for applications is 6th of December 2015.
For further information regarding the position, please contact hanna.wacklin@esss.se. For further information regarding the recruitment process, please contact HR Business Partner, kristina.anderberg@esss.se.
The ESS looks forward to receiving your application.