Neutronsources.org launched
By Inês Crespo and Jürgen Neuhaus, 24/07/2013
On the 8th of July the neutronsources.org website went live. This happened just on time for the opening session of the International Conference on Neutron Scattering (ICNS2013) in Edinburgh where the launch was announced by Paul Attfield.
PR meeting in Grenoble 2012. Picture: Serge Claisse, ILL
This project is supported by a network of European press officers who have been meeting to discuss the concept of the website, its content and outline since November 2011. There is currently a growing number of 37 facilities and users' associations assuring that the most up-to-date neutron-related information and news are sent to the NMI3 Information Manager who coordinates the website. This is definitely a portal from the neutron community to the neutron community worldwide.
Neutronsources.org aims to contain comprehensive and useful neutron-related information. You can find a dedicated page for each neutron centre and association with description, pictures, important links and contacts. You can read the most recent news about scientific achievements and events in the neutron world.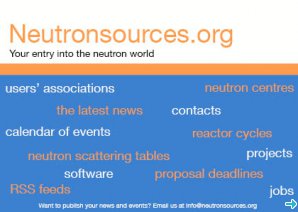 Those who are new in the field can browse the "Science with Neutrons" page to get to know more about neutrons, their characteristics and applications. Under "Resources" one can learn about projects and collaborations using neutrons, as well as useful software and tables. On the calendar, you can browse future and past neutron events such as conferences, workshops and schools, including a list of frequent events like the European and International Conferences on Neutron Scattering. Have you got a brilliant idea for a research experiment? The website tells you the facilities' deadlines for submission of proposals and also the operating periods. Are you looking for a job or need a change in your career path? You might find it on the up-to-date job openings lists on neutronsources.org.
All this is possible due to the enthusiasm of volunteers to create this website. The coordination is supported by the NMI3 project whereas the server itself including technical support is provided by the FRM II. By reusing previously published material such as news or events, the additional workload for press officers and contact persons from the involved institutions is kept to a minimum. The result is a lively reference portal for the neutron community. Would you like to contribute? All interested persons are welcome to contact us at info@neutronsources.org!
Did you know there is a neutron mailing list?
To stay informed about neutron-related activities and developments you can subscribe here.