Register now and win a T-Shirt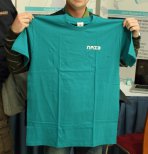 Visitors who register on our website before the end of 2011 will enter a draw to win beautiful NMI3 T-Shirts.
Make sure you register now! There are many T-Shirts to win.
By registering with us, you will ensure that you are kept up-to-date and receive the NMI3 newsletter Inside NMI3 twice per year.
The winners will be announced in January 2012.
Back to previous page