My tour of facilities: filming and fun at ISIS
By Juliette Savin, Information Manager
The second stop on my tour of European neutron and muon facilities was ISIS in the UK, where I spent three days in the last week of January 2012. My plan was to meet and film Joint Research Activities members on the first two days and take part in the Friends and Family activities planned for Saturday 28th January.
Filming the JRAs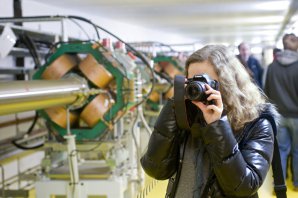 I arrived on Thursday 26th in the morning and went straight to the muon instruments to interview Stephen Cottrell, coordinator of our Muon JRA, about the project and its outcomes at ISIS (you will see more about this in the Muon JRA series video). Philip King (Muon Group leader), and Muon group members Adrian Hiller, James Lord and Peter Baker also kindly accepted to be interviewed about their work at ISIS and for the Muon JRA.
The muon instruments HiFi, EMU and MuSR are all located in Target Station 1 (TS1), and were inactive during my visit since ISIS is not currently operating. This meant that I could peer inside the instruments and even interview my speakers inside them!
Nigel Rhodes (group leader) and his team from the Detector group at ISIS, Davide Raspino and Erik Schooneveld, took me on a ´detector tour´ of the instruments in the brand new Target Station 2 (TS2), for my video about the Detectors JRA. Once again, because the instruments weren´t being operated we could peek inside them to examine their detectors. I now know a lot more about the different types of detectors found at ISIS.
Ole Kirichek (group leader) and Chris Goodway from the Sample Environment group told me a little bit about their work for the Sample Environment JRA and the high pressure cells and pressurizing devices for hydrogen that they´ve been developing.
During my stay, I also got to chat to Ross Stewart, the coordinator of our new Schools programme, about our Education activities. More coming soon about that!
One of the (unexpected!) highlights of my tour was the tour of the ISIS synchrotron. Inside the synchrotron, I got to see the different magnets that accelerate the protons (radio frequency magnets) and extract them (kicker magnets) to feed them into the two proton beams. In the beams, the protons travel at 84% the speed of light and it is at this speed that they hit the two tungsten targets in TS1 and TS2.
Friends and family day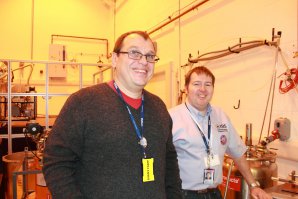 Oleg Kirichek and Chris Goodway at the Magnet Lab
On Saturday 28th January, ISIS organised a friend and family day in its new Target Station 2. A total of 600 visitors accepted the invitation and came for an afternoon filled with hands-on activities, live science demonstrations and music. Andrew Taylor, the Director of ISIS, was very pleased with the turn out: "It´s wonderful to see, here on a Saturday morning, 600 people who have come to see what we do."
Children and adults alike seemed to enjoy the hands-on activities, such as the magnet lab and the crystal garden. "I´m surprised how much people are interested, everyone, adults as well as children," admitted Chris Goodway, from the Sample Environment group, who was involved in organising and running the Magnet Lab.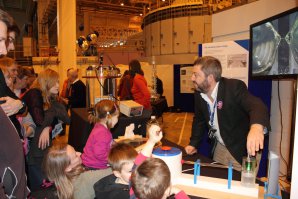 Ross Stewart at the Atoms and Molecules stand
Visitors could also see inside the instruments and the proton beams, and learn about all sorts of physical and chemical phenomena. There was plenty of food and drinks, and generally lots of things to see and do everywhere around the target station.
"We started organising in September," explains Sue carter, PA to Andrew Taylor and main organiser of the event "It´s been a team effort, we´ve got 75 people volunteering to do shifts today. Unfortunately it´s the last time we do this, soon all this space will be full of instruments. But it´s all come together really well."
I have to agree with Sue. It all came together really well and everyone had a lot of fun, and probably also learnt a few things along the way. One thing everyone learnt for sure is that ISIS is willing to open its doors and show what it does to the public. And that too (opening its doors), it does it well.
ISIS Friends and family 2012 photo gallery:

ISIS Friends and Family day 2012

Oleg Kirichek and Chris Goodway

Ross Stewart

Ross Stewart

Science demonstrations @ ISIS

Science demonstrations @ ISIS

Water bridge

In action!
In action!

Crystal garden
In the Magnet Lab

In the Magnet Lab

Visiting Sans2d

Inside the proton beam

Juliette Savin @ ISIS
Back to previous page