The 36th Berlin School on Neutron Scattering is open for registrations
The school will be on Feb 25 - March 4 at the HZB. The deadline for registrations is Oct 15.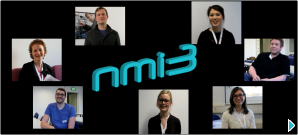 School Series - The 2014 Berlin School on Neutron Scattering
Click to watch our 2014 Berlin school video!
We are pleased to announce that 'The 36th Berlin School on Neutron Scattering' will be held from 25th February to 4th March 2016 at the Helmholtz Zentrum Berlin in Germany.
The school program
The school program consists of three days of lectures giving a theoretical introduction to the fundamentals of neutron scattering and the principles of various neutron scattering techniques. After the lectures, there will be three and a half days of hands-on experiments on seven different neutron scattering instruments.
The students will be divided into groups of four to five people from similar subject areas and will do triple-axis spectroscopy, powder diffraction, small angle scattering, reflectometry, time-of-flight spectroscopy, tomography and residual stress analysis under the guidance of experienced scientists.
Furthermore, there will be a students' poster session which will give the students the opportunity to present their work and discuss with the HZB scientists how neutron scattering could benefit their research.
The school will finish with lectures on how to use neutron scattering as a tool for research in the areas of biology, chemistry, engineering and physics etc. This course is part of the curriculum of the Faculty of Mathematics and Sciences at the Technical University Berlin.
Views from participants of the Berlin school 2014
NMI3 has been to the 2014 school edition and talked with the participants and organisers. To find out about the participants experience you can read our article and watch our video here !
For further details please visit the school website http://www.helmholtz-berlin.de/events/neutronschool/ .
Useful links
The latest NMI3 news

Job: the
ILL

is looking for an Industrial Liaison Officer

Join the ILL to work within the Industry WP of the new SINE2020 project. The deadline for applications is Sept. 27. Read more.

LLB

calls for proposals: the deadline is October 1st 2015

The deadline for neutron beam time request to perform neutron scattering experiments at the Laboratoire Leon Brillouin in France is October 1st. Read more.

Science, tapas, t-shirts and M&M's at the
ECNS
NMI3 was at the European Conference on Neutron Scattering 2015. Get to know about announcements by ENSA and the highlights of this great conference. Read more.
Back to previous page